(Left) Persepolis
Greeks for 'Persian City'.
Located in present day Iran, the ceremonial capital of the Achaemenid Empire was built to showcase the empire's power, which spanned three continents at its height, controlling the largest territory of all ancient empires. Its halls, the largest of its time, were buit with huge columns, holding up oak and cedar beams.
Subjects seeking an audience with the King of Kings enter the city via The Gate of All Nations (Top-Left), it had a voluminous halls with ornate decorations enclosing 625mē of space. Apadana palace (Center) was the largest and the most complex building, its audience hall in the center enclosed a space of 3600mē with 72 stone columns, 13 of which still stands today. The Throne Hall (Right), or "Hundred-Columns Palace", was 4900mē.
Relevant and irrelevant news from the seven continents are compiled here periodically.
2009-September-29
Microsoft releases free anti-virus software calls Microsoft Security Essentials.
Codenamed Morro, Microsoft Security Essentials 1.0 is the successor to Microsoft Live OneCare. Essentially, Microsoft took the poorly received Live OneCare, removes its firewall, performance tuning, and backup and restore features, retains and optimizes the antivirus and antispyware engines.
Microsoft emphasizes that it is not looking to compete with vendors such as Symantec or McAfee. The indication is that Microsoft is aiming to compete with basic-but-free security apps.

Download Microsoft Security Essentials
2009-August-08
Apple has formally started manufacturing its netbook-size computer.
The media device has a 10.4 inch capacitative touch screen, GPS, compass, and will function like an oversize iPod with WiFi and EDGE/3G data capability built-in. While it does have a webcam and a microphone, it will not be able to place cellular voice call.
Apple had identified the crowded and low-cost netbook market as the next key growth segment. Rather than joining the battle, the company intends to fully exploit the iPhone halo effect and set itself apart to create a whole new market for the premium mobile media and entertainment device.
The device will be launched just in time for Christmas.
2009-August-04
In August, Google launched a month-long ads campaign in response to Microsoft's announcement that part of its next version of Microsoft Office System will be available over the web for free.
Google's ads focuses on the variety of applications such as Google Apps and GMail that are free and are available now. This free-ness, however, include Google's Android and other free mobile applications that do not go down well with Apple, so today Apple ousted Google CEO Eric Schmidt from Apple's board, with Apple's CEO Steve Job specifically citing Google's Android and Chrome OS as conflict of interest.
Chrome OS, in particular, is seen by Microsoft as invasion into its core business, which in turn propelled Microsoft's CEO Steve Ballmer's decision to fight back with its Office suite in the first place, together with its revamped Bing search and partnership with Yahoo. However, Microsoft's soon to be released Windows 7 and Windows Mobile are targetting Apple's Mac OS and the iPhone OS instead.
The three companies have a combined market cap of over 500 billion USD, and warchests of 24.2 billion (APPL), 19.3 billion (GOOG), and 29.9 billion (MSFT) respectively.
2009-July-10
Google officially announced that it will release its own operating system based on its Chrome browser.
Goggle already has an operating system - the Linux-based Android - for the mobile platform. The game plan is to expand Android device support, marry it to Chrome browser, then release it late this year. The netbook makers are expected to pick it up and preinstall it starting from the second half of 2010.
The goal is to achieve true &quo;instant-on&quo; capability, where the device can launch Chrome in under 2 seconds from an apparent &quo;off&quo; mode. While the boot time from a complete power-off mode may be long, after the hardware has been properly initialized, the device will &quo;switch on&quo; and &quo;switch off&quo; in seconds.
2009-May-25
Microsoft releases the second and final service pack for Windows Vista.
The download size ranges from 350MB to 580MB, and fixes over 600 bugs and performance issues according to Microsoft. You will need to have SP1 installed before you can install SP2.

Download 64-bit Windows Vista and Windows Server 2008 Service Pack 2

Download 32-bit Windows Vista and Windows Server 2008 Service Pack 2
2009-March-19
Microsoft is launching Internet Explorer 8 today.
Initially it will be available as a stand-alone download, but by next month Microsoft plans to make it part of Windows Update download.

Download Internet Explorer 8
2009-February-26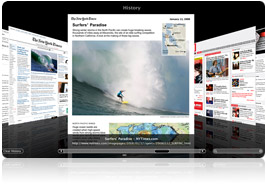 Apple had released the beta version of its Safari 4 browser.
Safari 4 is significantly faster and much more user-friendly compared to Safari 3. New features such as Windows Native Look contribute to a very nicely intergrated environment even on the Windows platform.
With the appropriate 3D graphics hardware, additional features such as Top Sites, Cover Flow and History View becomes available, which make Safari the best looking browser out-of-the-box. Windows users can also choose to use Apple"s font rendering engine rather than Windows"s Clear Type technology.
In addition, it comes with a built-in search engine that actually searches through the contents in the history cache. There is also a spelling and grammar checker built in.
However, like Google Chrome, end-user does not have control over the printing function. As a result, format printing from Infoarch application suites is currently not supported.

Download Apple Safari 4
2008-December-12
Google Chrome browser has been officially released, as at version 1.0.154.36.
The front-end of Google's operating system is very stable. Its speed in running Infoarch software is very respectable, running at close to 100 times (that is 9,990.00%) the speed of Internet Explorer in instances where heavy JavaScript activities are presence.
Unfortunately, its printing support is still very limited.

Download Google Chrome
2008-November-18
The highly anticipated Intel's Core i7 processor has been released.
The Nehalem-based quad core processor is about 50% faster than Intel's current top-of-the-line Core 2 Extreme processor, while selling for half as much.
64-bit operating system is needed to fully exploit the processors and the new X58 chipset.
2008-November-10
P1's W1Max is available in certain selected areas in Kuala Lumpur, Penang, and now Johor Bahru.
This is one of the first WiMax deployment in the world, and the first true competitor to the encumbant Streamyx. Unfortunately, it is less than ideal.
The obvious advantages are that it is actually both faster and cheaper than Streamyx. The W1Max 1200 package is currently offered at RM99/month, whereas the cheapest business Streamyx package is RM148/month. Measured domestic downstream bandwidth is around 1.2 Mbps compares to Streamyx's 0.7 Mbps. Upstream bandwidth is 0.3 Mbps versus Streamyx's 0.2 Mbps. On top of that, you have the mobility of taking the modem with you to a different location, as long as it's within the coverage area, it will work (nation-wide roaming adds RM10).
The good news end there. It is faster only when it works, and it doesn't always work. You will see signal drop to zero at least once a day. This is made worse by poor weather, as heavy rain would reduce the signal by approximately 33%. Regardless of line condition, you will have intermittent difficulty connecting to either Streamyx or Jaring networks. P1 also caches the contents too aggressively, similar to what Jaring used to do.
The biggest advantage for home user, and disadvantage for businesses, is zero-configurability. P1 will not allow you to configure the modem: you can not configure port forwarding, nor change the IP address, nor disable the built-in DHCP server. The modem's faked HTTP login page does nothing, and repeated failed attempts to access the modem will result in the modem locking itself, requiring switching off and on the power to get it to work again.
According to Green Packet, they will lanuch an enterprise package in 12 months' time. Until then, we believe P1's W1Max is highly viable to home users, but only good alternative to small businesses with simple infrastructure or to businesses that intend to have two or more Internet lines.
2008-October-4
This news is noteworthy in the context of current economy situation: on Friday morning, a blogger posted on CNN's iReport site that Apple's CEO Steve Jobs was rushed to a hospital after suffering a heart attack.
Apple's share price immediately spiraled down from USD105.04 to USD94.65 within a few minutes, reducing Apple's market cap by over USD9 billion, prompting the Securities and Exchange Commission to launch an investigation.
In translation, that means in the eyes of the investors, Steve Jobs is worth at least 10% of Apple to Apple.
2008-September-3
Chrome, the Google browser built to support its upcoming web operating system, has been released in Beta.
While not officially supported, the browser is tested to be blazingly fast in running Infoarch software, it is also exceedingly responsive in supporting multiple tabs, where a program running in one tab can be left running while user continue with another tab.
However, as it is still in Beta, you are advised to use it for testing purposes only.

Download Google Chrome
2008-August-8
The Chinese government is allowing unprecedented free flow of information in the name of Beijing Olympics; most Internet communications are now merely monitored, not blocked.
Therefore users connecting from China will still have intermittent time-out errors.
Archived News